Lucky Lancaster has Escaped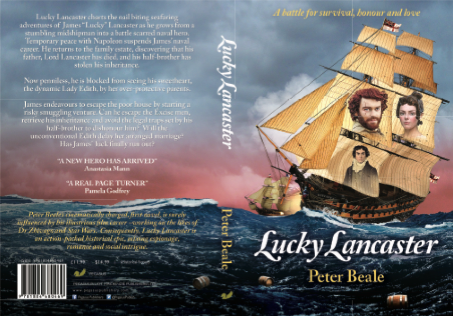 Lucky Lancaster has escaped!!… from the printers. It is the name of my first novel and available to order from:
Kindle, Amazon, Waterstones, Blackwells and your local bookshop. It will soon be with W H Smith and Barnes and Nobel.
Cover designed and trailer by Richard Gardner
To view the trailer: https://vimeo.com/863937434
To listen to a short (2.5 minutes) Author's reading download from here:
https://wetransfer.com/downloads/691bd331e8118345e49a78dba806734a20230925091127/48e568d8e330764772e8e98d110841e820230925091127/34d5c0
In order to be noticed and successful on Amazon/Kindle one needs 50 (positive) reviews.
Some early ones I have received included:
"A page turner." "I did not want it to finish." " I had to read it at one sitting." "At last, a fascinating 1800 woman." "A cast of characters that are unique and fascinating. The reader is soon drawn into the upturned lives of each of one of them and is given a front row seat to their challenges." "with fast-paced and gripping action scenes which will be sure to have the reader on the edge of their seat."
A number of friends helped with the book editing, being very generous with their time, and they are acknowledge in the front of the book.
If you think you might be able to send in a review to Amazon/Kindle, and the publisher Pegásus I will send, as a gift, to you via email an advanced reviewers copy in PDF format. Kindle should be available on Sep 28. (Contact peter@peterbeale.com). The paperback copies will take about a week after Sept 28. So the electronic copy will save time and get reviews on line. All help will be much appreciated.If you like the book, please recommend it to friends.
Francesca and I had a hot, but lovely summer here in Carboneras Spain. Yasmine, Joaquin, Shane and Olaya were here in Carboneras in June, and Sean and Katie for a week in August.
The requests for screening of our short film Campos Secretos are increasing from villages and schools from all over Spain. We are invited as guests, often to give a talk, so we are seeing a lot of interesting places. In the last few weeks; Taverno, Province of León, Murcia/San Pedro and next weekend Cartagena. If anyone would like to see Campos Secretos (30 minutes) let me know and I will provide a link and password. It shows how people used to live in the country side prior to electricity, running water and, of course, the WEB.
Still sailing regularly.
I just had my 80th birthday and Francesca gave me a great party.